Facing North: Jefferson Street, Nashville, an NPT original documentary, explores the untold stories of a Nashville community struggling to preserve its vibrant African American culture. Jefferson Street, once the northern boundary of Nashville, was a beacon for African Americans from the early 1800s through the 1950s. It offered sanctuary for runaway slaves after the Civil War; the promise of education with the establishment of three iconic HBCUs; spiritual support at some of the oldest black churches in Tennessee; a flourishing entertainment scene drawing world-renowned stars; and a model for student sit-ins during the Civil Rights Movement.
This beloved community was forever changed by the construction of Interstate 40, causing economic and social decline of its neighborhoods, businesses and cultural fabric. Some determined residents with deep family roots in the community are trying to steer Jefferson Street to a future that revitalizes its blight while preserving its heritage.
As one historian states, "Jefferson Street provides a lab for some of the most important historical, social and cultural events in the U.S. South" and a compelling example that explanations for the present often lie in the past. This documentary will be told through the through the experiences of longtime residents in the Jefferson Street area who are boldly facing past challenges and future uncertainties of their north Nashville neighborhood.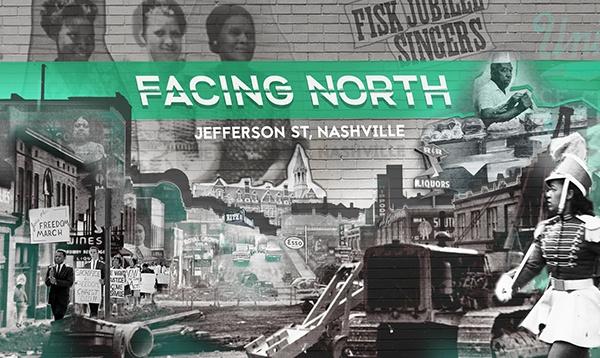 Learn how Jefferson Street's rich history was worked into the artwork for NPT's original documentary "Facing North: Jefferson Street, Nashville."
Facing North: Jefferson Street, Nashville | NPT
Facing North: Jefferson Street, Nashville
This NPT original explores the untold stories of a unique part of Nashville's history.
---
Major Support for Facing North: Jefferson Street, Nashville was Provided by:

Additional Support was Provided by: