Henry Wolkoff and Sally Abramczyk Wolkoff | Stories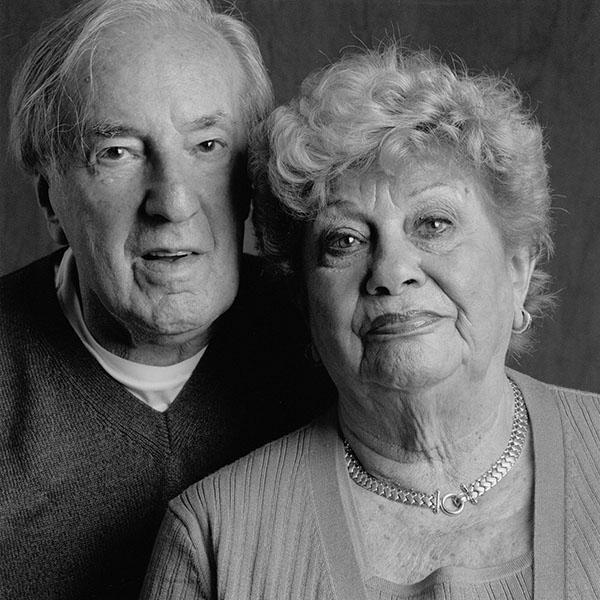 Nashville, TN
b. 1914
Lutomiersk, Poland
Survivor Pabianice and Lódz Ghettos;
Auschwitz, Mauthausen, and Ebensee Concentration Camps

Nashville, TN
b. 1921
Pabianice, Poland
Survivor Pabianice and Lódz Ghettos;
Auschwitz, Freiburg, and Mauthausen Concentration Camps
"She just knows I know and there is comfort in that. We don't have to say anything. We understand the pain.We understand each other," says Henry Wolkoff, who met his wife, Sally, in the Pabianice ghetto.

He continues, "You wanted to talk to other people there. You could learn about what was going on in other places—mostly rumors—and sometimes you made a friend. We would walk together and talk." When the ghetto was closed in 1942 they lost touch. Both were deported to Lódz, and then to Auschwitz.

Sally remembers the last time she saw her family together: "It was in line awaiting separation at Auschwitz. Two of my sisters were sent to the airplane factory and my other sister and I were sent for office work." Her father's instructions were, "Whoever survives must return to Poland to find each other."

Henry was sent to Mauthausen concentration camp and taken by cattle car to Ebensee. Sally survived Freiburg and Mauthausen. She whispers, "It is impossible for me to describe what I saw there at the camps. Death everywhere. Bodies, sickness…I just can't explain it." As she confronts the memories, she cries.

At liberation in May 1945, Sally was suffering from starvation and from typhus, a disease caused by lice and crowded, unsanitary living conditions. Henry, too, was sick with typhus. But both made their way back to Poland. When Sally saw Henry again, she says, "I knew he was the man I wanted to marry. I just looked at him and I knew." Henry reaches for her hand. "We don't talk about it. It is very hard for us," he says, bowing his head in memory of family members who did not survive.